In July 2020, Andrew Richard was in an accident on the Boise River which left him paralyzed from the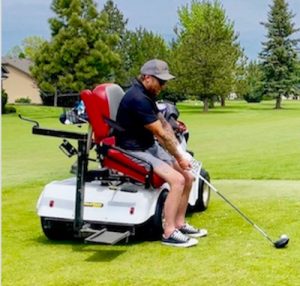 waist down. Andrew was on the river bank when a tree fell and crushed him and several others.
Andrew has always loved sports and activities including golfing, snowboarding, wakeboarding, riding dirt bikes, and many others.
Since Andrew's accident, he has been able to borrow a Single Rider Adaptive Golf Cart called SoloRider, thanks to the generosity of a fellow SoloRider who lives on Lakeview Golf Course.
By attending and/or contributing as a sponsor, we can raise money to help Andrew purchase his own SoloRider Adaptive Golf Cart and continue to enjoy one of his favorite activities. Lakeview Golf Course looks forward to seeing you on the green.
For more information, click here.